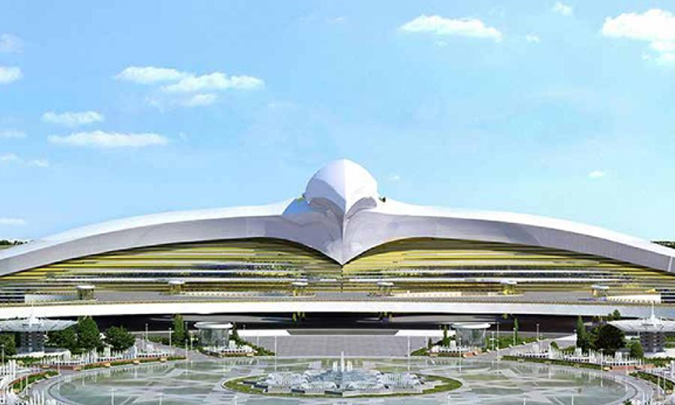 TEKSAN, Preference of shopping malls in trigeneration.
New Ashgabat International Airport, Turkmenistan
Project Requirements
Meeting all energy needs of New Ashgabat International Airport to be built on a 350.000 m2 area.
SOLUTION WE DELIVERED
As TEKSAN, we meet the energy need of this project along with 36 units of generator sets with a power ranging from 145 kVA to 1900 kVA.
Emergency generator sets to be used in New Ashgabat International Airport project, which will serve in Ashgabat, the capital of Turkmenistan, have been provided by TEKSAN.
New Ashgabat International Airport has been built by Polimeks Construction Company.
Within the scope of this project, the airport has a closed area of approximately 350.000 m2 along with VIP terminal, air traffic control tower, open and closed passenger car parks with a total capacity of 3.000 vehicles, cargo terminal with a capacity of 200.000 tons per year, aircraft maintenance building with 3-aircraft capacity, catering buildings, refueling facilities, fire stations, warehouses, maintenance and repair yards, civil aviation school, flight and canopy training simulator building, hospital, dormitory building, indoor sports hall and other administrative and technical auxiliary facilities.
As TEKSAN, we have provided 36 units of standby automatic and synchronized generator sets with powers ranging from 145 kVA to 1900 kVA with auxiliary equipment for this project.
The auxiliary equipment can be listed as output switch and synchronization panels, critical type exhaust silencers, main fuel tanks at different capacities for each generator, automatic fuel filling system, heaters and remote monitoring system.
The details were clarified during the meetings convened with Polimeks and the project authorities before the generator sets were manufactured. The layouts in the generator room where the generator sets would be located were made. All of the above listed auxiliary elements are included in the layout. With respect to the layout to be made, the performance to be shown in the field has been simulated by performing the cooling air flow analysis of the generator rooms by using Solidworks Flow Simulation 2014 program.
Along with our generator sets manufactured as a result of the performed studies, service continuity is ensured by meeting the power need of the New Ashgabat International Airport in the absence of the mains.
As TEKSAN, we are proud to meet the energy requirement of such an important project.