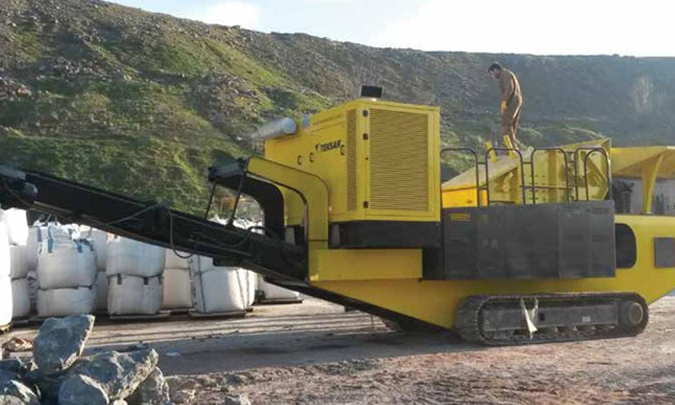 TEKSAN, Preference of shopping malls in trigeneration.
Mobile Stone Crusher, Turkey
Project Requirements
Providing the energy need of specially produced stone crusher.
SOLUTION WE DELIVERED
A special 330 kVA prime type generator was coupled with 450 kVA special type alternator for the continuous operation of the mobile crusher, in addition, the field type air intake filters to prevent dusty environment effects and leaf type manual shutter to prevent dust from entering the machine when the machine is not working were used.
Founded in 1973, Topcu Machinery operated in the fields of production, maintenance and repair of machines used in the mining and construction sector until 2011. The company entirely directed to production of mobile machines by establishing a strategic partnership with Ozyurt Machinery.
Ozyurt Machinery aiming to produce better solutions by determining the shortcomings of existing mobile machines with a different perspective caused by 40 years' experience of production, maintenance and repair continues its projects with the mission of quality and reliability.
The company has a 10-year global validation patent for the crusher with pellet and generator placed on it, one of its most important projects.
TEKSAN GENERATOR, a power solution partner of this project, has developed a special product for the mobile crushers coupled to 450 kVA private alternator for higher performance of 330 kVA prime product.
Field type air intake filters were used for continuous operation of the generator in a heavy dusty environment, and the leaf type manual shutter was added to prevent dust from entering the machine when the machine is not working.
OPTIONS
Dish type vibration block was used between motor and chassis.
The panel produced using Schneider branded materials was placed on the side and the panel was covered with plate.
The device was installed on the location determined on the machine, not on the panel.
The fuel tank has been strengthened. Special-purpose double-wall fuel tank was produced, and filter was inserted in the mouth of the fuel filling.
Fuel tank ventilation was carried to the front of the radiator, and sump ventilation was carried to the front of the canopy.
The feature of audible warning with the horn was added in the project to be used in cases of malfunction and when the fuel is low.
Replaceable sand filter in Canopy air intake areas, and hood application in front of filter and radiator were performed.