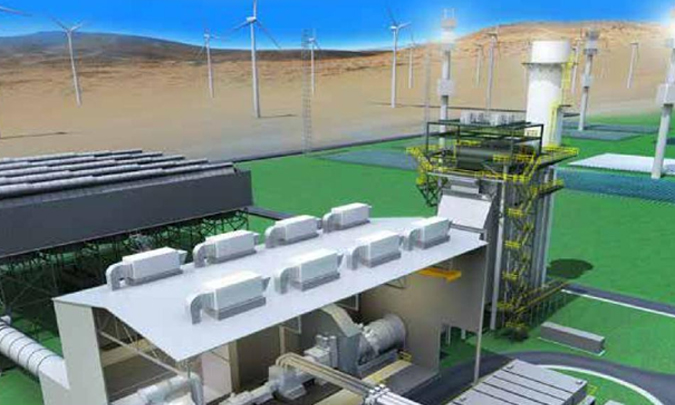 TEKSAN, Preference of shopping malls in trigeneration.
HeasHamitabat Power Plant Project, Thrace
Project Requirements
The Power Plant meets approximately 7% of Turkey's electric power generation, and the generated power meets energy needs of Thrace and a large part of European Side of Istanbul.
SOLUTION WE DELIVERED
TEKSAN products with 1 unit high voltage alternator (6,3 kV) 2500 kVA, 1 unit 1500 kVA (400 V) that we have specially designed for the project serves as the black start generator of the gas turbines in the project.
Foundation of HeasHamitabat Natural Gas Combined Cycle Plant, acting as an affiliate of Ministry of Energy and Natural Resources of Turkish Republic, is laid in March 17, 1985 and the first and the last units were put into use on 24th of November, 1985 and on 13th of April, 1989 respectively. Plant is a combined cycle plant with 1120 MW installed power and it is comprised of 12 units, 8 of which are Gas Turbines, each one having 96 MW power, and 4 of which are Steam Turbines, each one having 96 MW power.
In power plant, there are 4 combined cycle plants. Each combined cycle plant is comprised of 2 gas turbines and 1 steam turbine.
HeasHamitabat Power Plant, providing alone 7% of electric power generation in Turkey, meets energy needs of Turkish Thrace and large part of Istanbul's European Side. The power outages that may occur due to any problems that arise in the power plant will affect the whole of Turkey, particularly Turkish Thrace and Istanbul.
An emergency energy supply is needed to power up lubrication and water circulation pumps, ventilation, excitation and automation systems so that the plant could reinitiate generating electricity in such power outage that might be experienced.
A 1500 kVA generator set with high voltage alternator (6,3 kV) was specially produced as a solution to the power need called "Black Start" in energy production plants.
Project design is done following to preimplementation activities such as operational scenarios of the generator sets to be installed in the facility, determining installation spots for generator sets, positioning 2500 kVA standby generator set in to the room prepared for demounted old genset and placing 1500kVA generator sets outside the building, installation and commissioning of them, field studies and meetings of TEKSAN after sales services team with plant authorities.
2500 kVA standby genset amongst aforementioned generator sets which are specifically designed for operating automatically in case of any power outage in plant is capable of reactivating excitation system and pumps by energizing transformer's inputs through its two outputs, 400 V and 1900 V. As for 1500 kVA generator set, it supplies power to internal requirements and automation system.
The fact that such a huge energy production plant has chosen TEKSAN as supplier of emergency power system required for performing "Black Start" is such a süblime success as well as evidencing that it is a reliable partner with its services provided to HeasHamitabat Plant.